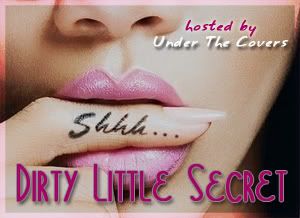 Dirty Little Secret
is a weekly meme hosted by us at Under the Covers. Every Thursday we get to know other bloggers and our readers more intimately by asking them a question hoping to reveal their dirty little secrets. We hope that you will all join us!
To participate in the meme all you need to do is:
1. Be a follower of Under the Covers.
2. Create a post in your blog taking the meme image (click picture to visit UTC page) and copy instructions.
3. Answer the question they propose! This can be done in any way you like, post a video, write a post etc.
4. Then add your link at their website.
"Book boyfriends of 2011! Make a list but you can only use books you've read this year.
"
What a fun question to end the year! And a tough one!
First, my favorite book boyfriend this year would definitely be Gabriel Tauhou, from the Silver Dragon Series by Katie MacAlister. Gabriel is the leader of the silver dragons. Dragon Shifter and he can set you on fire! 'Nuff said. My review HERE
Second... I really loved Slade, from Ink by Holly Hood. I just read this book last week, but I fell in love with it right away! He's a witch, He's tattooed, and pierced, and he can get you a whole new wardrobe just with a thought ;) If you haven't read it, I seriously think you should! My review (and giveaway until Dec 30!) HERE
Hmmm...Third. Justin Seward from The Calling, by Ashley Lynn Willis. Justin works for the Coast Guard as a rescue swimmer. Oh yeah, and he is a descendant of Triton and can command the seas *and* he is hot and sweet! My review HERE
Fourth - Jake Silver!! He is a wolf shifter from Dreaming of the Wolf by Terry Spear. Of course, he has all the wolfy attributes we all want *plus* he can visit you in your dreams :) My review HERE
And lastly, Alastor from Spiritus by Dana Michelle Burnett. He may be a ghost, but he's got more passion than most living men! My review HERE
I can't wait to hear what your picks are!! Do you agree with any of mine (and can you share nicely lol)? Let me know in the comments, and leave a link to your DLS!