Title: Mystery Falls
Series: Yes
Author: Marilyn Phillips
Tour: Yes, Supagurl Tours
Published:
July 3rd 2012 by Marilyn Phillips, via Smashwords
Format: Ebook provided for review
Secrets. Lies. Deception. For the past six years, Samantha Hunt has lived with the belief that the untimely death of her parents was the result of an unfortunate accident—that by the cruel hand of fate, she had been left an orphan. But it was a lie, a terrible lie told to her by those who wanted to keep her in the dark. And the truth... when revealed, will change her life and haunt her forever.





Suddenly plagued by a series of events which find her in danger and in need of a savior, Samantha is repeatedly rescued by the mysterious and elusive Shadow—a stranger who seems to know more about her past and the tragedy which befell her family, than she does. Drawn to him despite the antagonism she feels whenever in his presence, Samantha soon discovers that Shadow is not what he appears to be. Determined to learn his true identity and why he has come to Mystery Falls, the small town in which she has spent all of her seventeen years, Samantha not only uncovers the secrets he refuses to share, but also the truth about her own past. A truth which forces her to acknowledge that things are not always as they seem, and sometimes, not even those close to you can be trusted.





Resolved to seeking justice for the unwarranted death of her parents, Samantha embarks on a journey which brings her perilously close to her own demise. Can Shadow use his angel powers to save her yet again, or this time, will he be too late.
My friend, Naomi, at
Nomi's Paranormal Palace
has great taste in books. So when I saw she had read this book and had a terrific review, it cinched my choice to sign up for the book tour when it came around with Supagurl Tours I was definitely on board. I am really very happy that I did! Angel books are usually a little harder for me to get into, even though I usually love them when I do. This book turned out to be a terrific story and it grabbed me right from the beginning.
While walking in the woods one day, seventeen year old Sam comes upon two creatures – a bear and a man. Strangely the bear scared her more than the man; even after he recites everything he knows about her and says he has been studying her. Um, hello?!?! Studying?!?!? Repeat, hello?!?! And she's attracted – not concerned. Then the mystery guy shows up for the first day of school and pretends he doesn't know her when she confronts him to thank him for saving her from the bear. Yet, she is still attracted.
These types of instances defy logic, but you just know they are leading up to something good. So while you are inwardly throwing out a few "WTH"s, it all just feels right and you find yourself thinking the same as Sam. Yeah, he's not someone to worry about, he's definitely someone to fawn after. And his name is Shadow.
Shadow is arrogant and conceited and a whole laundry list of similar adjectives. And he's hot. And he is so head over heels in love with Sam that everything else seems to be forgiven. Yep, I definitely found myself falling for Shadow, too! On top of that, the descriptions of him in his angel form are just beautiful and he is definitely a leading man not to be missed. His arrogant nature turns out to be quite endearing, and it was no time at all before I fell for his sly grin.
Sam is your average teenage girl. I mean, other than her parents both died in a car crash and she went to live with her aunt, uncle and cousin. Then her aunt up and left, leaving just Uncle Mike and cousin Claire with Sam. She's a bit shy at times, but everything about Shadow rocks her world and has her head over feet. I like Sam. I like her easy and loving friendship with bff gal pal, Mia.
There are some things in this book that seem to happen a little easily and a bit conveniently. However, it all seems to work and it goes with the flow. There are a lot of toe curling kisses in these pages, that's for sure. Another viable name for this book would be "Best Kiss Scenes with an Angel…Ever" or something like that. I mean seriously, that guy Shadow has the skills on lockdown! Any time he wants to come on over to my place, he can definitely lay some of those liplocking maneuvers on me!
The mystery in this book comes about in the form of why Shadow the angel is in the town of Mystery Falls in the first place. He is a bit stern with Sam about her private eye tactics, and she doesn't listen to advice very well. All in all it adds up to a wonderful ride of a story, and I found myself not wanting to put the book down each time I picked it up.




Marilyn lives on the outskirts of Melbourne (Australia) with her wonderfully supportive husband and two beautiful children. When not writing, she likes spending time with her family, taking long walks in dark forests and reading (anything involving paranormal romance / urban fantasy).

Her favorite authors include Becca Fitzpatrick, Stephenie Meyer,Claudia Gray and Amanda Hocking. Mystery Falls is her debut novel and the first in a series.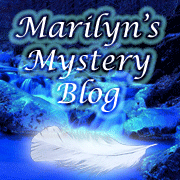 Giveaway is open internationally to people 18+. Prize is one ebook. Ends 12-25-12. Winner will have 48 hours to respond to winning notification or a new winner will be picked.
a Rafflecopter giveaway