I interview a lot of authors, we all do. And it is really a lot of fun. But who is it behind those interviews? You!!! So now I want to interview you! I plan on running this post every Thursday - but will probably end it in February after all previously scheduled posts. There are some occasions I will post a day early or late, if I already have too many posts on a given date, or a holiday. I have another weekly feature in mind to replace it with, while running these Blogger Interviews on a part time basis.
This week I have Melissa from Melissa's Eclectic Bookshelf!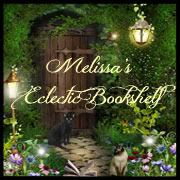 And I also have an INTERNATIONAL SWAG GIVEAWAY! Giveaway will run through Sunday, and I'll pick a winner on Monday!
**************************
Hey Melissa! How's it going?
Things are great Liz
J
Thanks so much for having me on Fictional Candy & Happy New Year!!
Can you tell the readers a little something about your website, Melissa's Eclectic Bookshelf?
My site is a very eclectic blog as the name would indicate. I read everything from Childrens to Adult - Classics to Paranormal, Chick Lit to Literary Fiction, etc. The only thing you won't see on the blog are horror or erotica because those genres just aren't for me. What I post reflects the wide range that I read and you'll find a little bit of everything there including reviews, guest posts, interviews and giveaways!
How did you get into book blogging?
I somehow stumbled upon some book blogs after I started a personal blog in January of 2011 and I realized that there was this whole wonderful community out there sharing a love of books. For about six months I visited and commented on other blogs while working on my personal blog…but by the middle of the year I knew that I wanted to be more active in the book blogging community so Melissa's Eclectic Bookshelf was born and my personal blog sadly fell by the wayside.
What would you say your favorite part of book blogging is?
The best part of book blogging is definitely meeting and getting to know so many of the great people that participate in this community!
I see you have a reading challenge for the new year, Witches and Witchcraft. Obviously, its about witches. Is there anything else you can tell us? ( how do we join, is it new, is it hard to host a challenge?)
I started this challenge at the end of 2011 because I was looking for challenges to join and saw so many out there (Paranormal, Vampire etc. ) but none that were Witch/Witchcraft/Magick specific...so I started my own. In 2012 we had over 250 participants linking up over 265 reviews. I comment on every sign up post and read and comment on every review...so it did end up being a lot more work than I anticipated…but I love it!!
For anyone interested in joining…it's a very low commitment challenge (the minimum is only one book) and though reviewing isn't required there is a giveaway for those that link up reviews. You can read more about it and sign up here.
What kind of advice would you give to someone just starting out in the book blogging world?
I would definitely recommend two things….
Get organized before you start..i.e. know what type of blog you want to have, what type of content, etc. and do your research before leaping in.

Do not accept too many review copies. You want to make sure to leave yourself time to read "for fun." (I didn't understand that reading for review wasn't "for fun" until I was knee deep in review books!) NetGalley…is the worst culprit here. I made the mistake when I started of assuming that I would not be approved for most of the titles I requested and I requested way too many…for books that I had only a marginal interest in…and then almost all of them were approved!

(omg, I can't agree enough with this, as my backlog of request will attest to!)
If you were a superhero, what would your name be, and what is your power?
I'd be the Dishwasher Lady. My husband always complains that he puts a glass, dish etc. on the counter, turns around to get something from the refrigerator, turns back and the item is GONE! I've already put it in the dishwasher in an attempt to keep the kitchen clean!
(And now I totally need you to come to my house!)
If you could take a vacation anywhere in the world for free, where would you go?
I so want to visit Ireland! My husband and I are hoping to take a belated Honeymoon this year and Ireland is tops on our list. (Morocco would be my second choice…yes…everything about me is rather eclectic!)
How about a little this or that?
Summer or Winter?
Autumn? LOL To be honest I love all the seasons…I couldn't live anywhere there wasn't variety!
Chocolate or sour?
Oh I'm bad…I like both!
Vampire bite or Werewolf bite?
Vampire
J
Mansion or cabin?
Cabin…as long as it had indoor plumbing!
If you could be a character in any book, which character would you be?
This is such a tough one! I don't know that I can narrow it down to a specific character…or that I'd want to…they always face such tough challenges that make the books interesting but would be hard to face in real life. I'd definitely want to be a witch though!
Do you have any other book blogs that you'd like to give shout outs to, and recommend to us?
Goodness…there are so many wonderful blogs that I've discovered over the past two years, it's hard to narrow it down, but a few of my favorites are:
Thanks, Melissa, for chatting with me today!!
Thanks so much for having me, Liz
J
a Rafflecopter giveaway