Title: Summer's Temptation
Series: Vandeveer University #1
Author: Ashley Lynn Willis
Published: July 7, 2014
Format: Ebook received for review
If there are only three truths in life, they are these. Women will always try to change a man. Men will always say anything to get a girl in bed. Tyler Mason will always have a long line of girls trying to domesticate him, and none will succeed. If one of these ceases to be true, the world will cease to exist.

These are the rules as college student Cassie Faye knows them, so when she gives up on dating in favor of a man who can satisfy her without tempting her heart, her next-door neighbor Tyler tops the list. Tyler isn't the type of boy Cassie would fall for, but he's the perfect guy to teach her how to claim her sexual independence without losing her heart in the process. Too late, Cassie finds out that under his womanizing exterior is an attentive, considerate lover who brings out passions in her that she'd barely glimpsed before.

What if she's wrong about the third truth? What if the world as she knows it is about to cease to exist?
Summer's Temptation is a terrific example of why I love the New Adult genre so freaking much. Ashley Lynn Willis really started off the Vandeveer University series with an awesome story. One part sexy college guy, one part sexy college girl, one part of a whole lot of drama!
Cassie is our heroine. She is the classic college co-ed. She's smart - so smart that she is a math major. She's beautiful without knowing how gorgeous she really is, and she's a kind soul. At one part in the story it's remarked that other women don't give her the "bitch eye" because she's just that nice of a person. And you know what? I totally bought it. The story is in her POV, and you really get a chance to
know
her. So when she decides that she is going to get a friend-with-benefits, you can only hope she doesn't get her heart broken. Heck, it's a broken heart that drives her to this decision in the first place!
That lucky guy is Tyler, campus god. He's sexy, lovable, a bit of a player, sexy some more, and just in general an awesome guy. Tyler is real. Sure, he goes through women like there's no tomorrow, but he is honest with them and doesn't lie. So when Cassie approaches him, you'd think this is a perfect match. Heck, I would approach him, this guy has perfection down to a T.
Hello drama!!! Of course it's not going to be as easy as Cassie hopes. No strings attached sex often ends up with a marionette's worth full of strings. It can't be helped. When you are that intimate with someone on a constant basis, it's nearly impossible to keep your heart out. And as these two start getting it on, you feel the impending storm coming. And ooooooh yes, it's a big one.
So let's talk about heat. There isn't a lot of graphic sex in the book, but you hardly notice. The sexual tension between Cassie and Tyler is thick enough to cut with a knife. When they start hooking up, you feel as bone weary as they do - and it is completely awesome. But you also feel the flirtation, and the emotions starting to grow. I really loved falling in love with them as they fell for each other. I really felt like I was there for every step of the way, every smile, every flirt, every "should I or shouldn't I?" that Cassie could come up with.
Ok, so we have the friends with benefits scenario going on. But there is a lot more happening. There is a possible love triangle, which is always exciting. And the third person in that triangle will blow your mind. There are also regular friendships to deal with. Cassie has two besties, Hannah and Liz. They are both awesome in their own right. One "bad", one "good". They balance Cassie out, and I wish they were my friends. And Tyler has two best guy friends too, Josh and Dylan, who are also his roommates (and did I mention that they live next door to Cassie and Liz?? Hello, Opportunity is knocking!) The trio of guys really gives you a full spectrum of hotties to contend with, too. I really felt like I got to know all of them, even though they are secondary characters. The rest of the characters are pretty terrific too. One of my very favorites is Philosopher Dan, and you will see why!! This guy seems like someone I would love to sit and talk with over and over, full of wisdom and good cheer.
Turmoil!! Oh yes, there is some turmoil. When the clash happens, it is just heartbreaking! I'm serious, I could have cried. Ashley Lynn Willis' writing is just captivating, and I couldn't book the book down. In fact, I read it in one day. The turmoil feels real. The indecision, the insecurities, the feeling that you think you are doing the right thing when your heart is screaming the opposite. Do you follow your head or your heart when they aren't in agreement? The road Cassie and Tyler have to go down is a bumpy one. There's some secrets along the way that totally caught me off guard and I loved it.
So yeah. If you love New Adult, I would definitely check this book out. I was easily drawn into this world, and I'm still thinking about this couple even after I've finished reading their story. They are a couple that I wish were made of real flesh and blood, because they just seemed so real to me in black and white. I will definitely be eagerly waiting for the second book (c'mon, let's hurry it up, Ashley!!)
Ashley lives in the Midwest with her husband of twelve years. For eight years, she worked as an engineer in general aviation but quit her job to be a stay at home mom to three precious children. She began writing in September of 2009 and has been penning her imagination ever since.
Find Ashley Lynn Willis Online

Previous Posts on Fictional Candy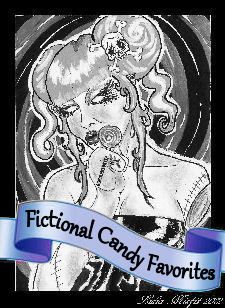 Also - we have a giveaway for a SIGNED PRINT copy of The Calling, Ashley's first book!



Mandy Hardy lost more than a breast to cancer; she lost her fiancé when he dumped her a week before her mastectomy. Her ego bruised and her self-esteem battered, Mandy's sure she'll never fall in love again.

Justin Seward is a headstrong Coast Guard Rescue Swimmer with a heart of gold and the supernatural ability to command the seas. He had to hide his feelings while Mandy was engaged to his best friend. Now that she's free, he's vowed to make her his.

Together, they may hold the key to each other's salvation. But when Justin's past catches up with him, and Mandy's ex-fiancé wants vengeance, they realize they might not live long enough for happily ever after. The Calling is a 360 page contemporary romance with a paranormal twist.
a Rafflecopter giveaway