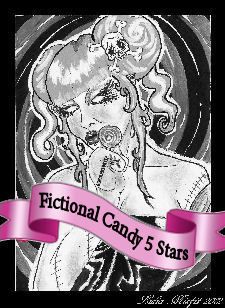 Do you have a 5 star rating from me? Check out my new button! Feel free to use it where ever you'd like to advertise your all star rating!
I can guarantee you that I respect your rights and will not give or share my copy of your book with anyone. I will not copy or distribute your digital book.
I prefer the following genres:




Horror / Dystopian / Post Apocalypse (Preferably ZOMBIES!!!)

Erotica/Dark Erotica/Erotic Romance
I will not review poetry, historical romance, nonfiction, overly religious fiction and overly political fiction. I reserve the right to deny any review request. I'm also not a big fan of time-travel, angels, or YA. I am also kind of burnt out on most paranormal. As always, our tastes come and go, and this could all change at any time.
Just because I accept your book does not mean I will review it. Unfortunately this does happen from time to time.
I am only accepting review books on an
extremely
limited basis.
My current turnaround time for reviews is approximately 5+ months. Your review could be before this time, or after.
I reserve all rights to adjust the schedule as I see needed. If your book requires a review by a certain date, please let me know ahead of time so that we can discuss your specific needs. I am very flexible, but I will not be able to accommodate last minute date requests. If you do not give me a date requirement I will do my best to read your book in a "First In, First Out" order. However, I do participate in a lot of book tours, and those have specific deadlines.
PLEASE NOTE: Authors! If you request a review and a feature post - and then skip out on your feature post without a word - I will not do your review! Sadly I have had this happen to me several times, and it is getting ridiculous. I understand things happen, and I am flexible. If you can't make a feature post by your scheduled date - just let me know!
*** *** ***
I may or may not receive books or ARCs from authors or publishers for the purpose of an honest review. I receive no other compensation. I will note in each review the format and the way I received the book.


*** *** ***
Terms and Conditions
All content provided on this blog is for entertainment purposes only. The owner of this blog makes no representations as to the accuracy or completeness of any information on this site or found by following any link on this site. The owner will not be liable for any errors or omissions in this information nor for the availability of this information. The owner will not be liable for any losses, injuries, or damages from the display or use of this information.
This policy is subject to change at anytime.